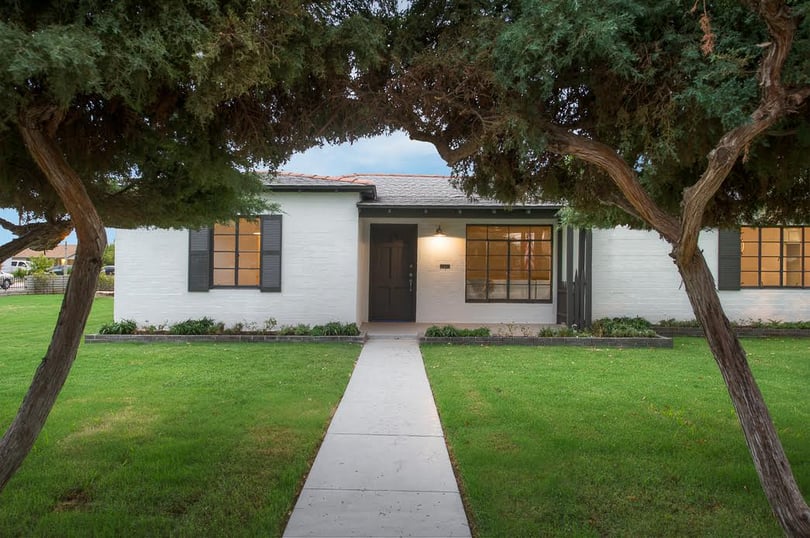 This is home at 921 East Cambridge was built in 1935 in the Coronado historic neighborhood. We approached this restoration much like we have in our previous properties. We started off with the major items such as all new electrical and installed a higher-grade A/C with sensors throughout the house. In the process of sorting out what we can keep and what needs to be replaced, we always hope that the original floors are salvageable. If you're a frequent reader of our blog, you'll know we've been fortunate enough to salvage the original floors, both concrete and wood, in some of our past projects. Luckily, this home was no different, we pulled back the flooring in this home and uncovered concrete floors in great shape! We diamond grounded down the floors along with etching around all the rooms and were treated to a glimpse of the original home as it looked 85 years ago in the 1930's.

We designed the kitchen with an open shelving concept and built the hood in house with our custom cabinet maker. The beautiful subway tiles stay true to the old soul of the home while the high-end appliances lend a bit of modernity to the kitchen. You'll notice a small milk chute that was there from 1935 as well. Fun fact, by 1930's standards, this home is actually very substantial in size. The bedrooms are rather spacious, which isn't typical for this time period. For both bathrooms, we took a glulam, which is a type of wood typically used to support a house, chopped it up and made a thick, heavy counter-top. Glulam is engineered to handle extreme stress and treated to be moisture resistant, making it perfect for a bathroom counter-top. We decided to lean heavily into contrasting design features for the bathrooms from sleek tile, chain-mail shower curtains to rugged and durable counters. We wanted to make sure that our work also stood the test of time. Hearkening back to the expert craftsmen that built this home, from us to the next generation, a silent thank you in the form of a well-built home.
We are here to help homeowners who need or want to sell their home quickly, regardless of the reason. At the same time, we help your neighbors protect their most important asset, their home, by revitalizing or rebuilding your property completely in harmony with the existing neighborhood.